Hallelujah! Pune's (first) best weekend of the year is just a few weeks away. The poster for the travelling version of Comic Con has arrived (image below) and we can't hold our excitement enough. And for the first time EVER, special international guests will be attending an express version driven by Alto K10.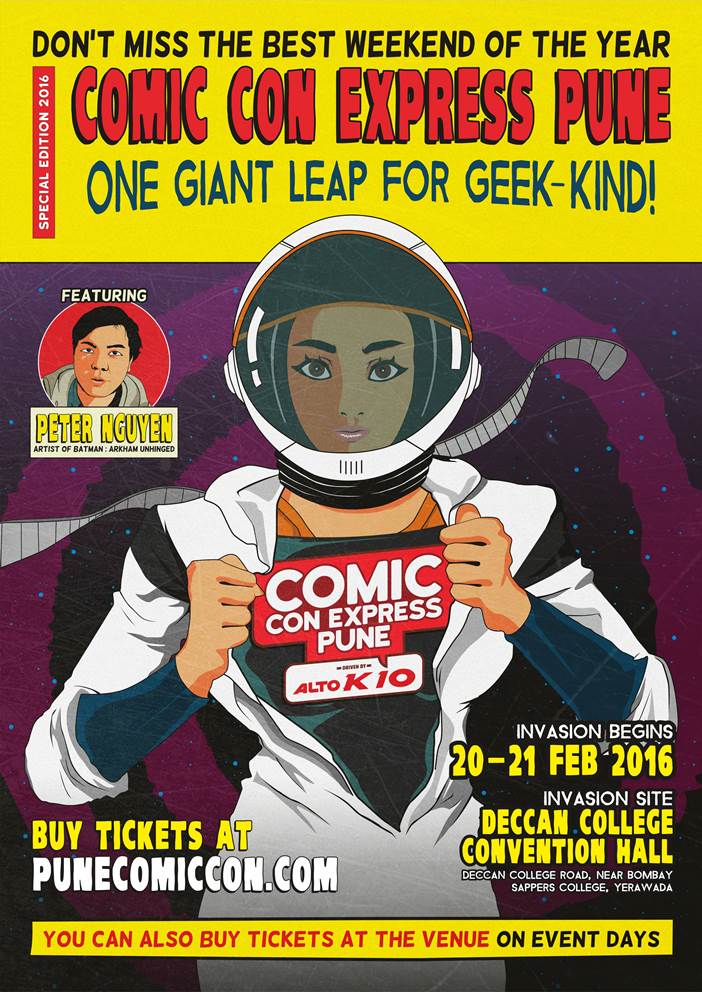 Among this year's special guests are-
Ivan Brandon (Author – Final Crisis Aftermath: Escape and Kobra and Secret Invasion) and
Peter Nguyen (Artist- Batman Arkham Unhinged).
The express version of the Comic Con was started with the sole aim of taking this event to most Indian cities to benefit the comic industry by local interaction and participation. The express versions that earlier started in Mumbai have been converted into annual events following the remarkable response they've managed to receive.
This time around. the CCEP is expected to have many fun interactive activities for the audience to enjoy. Apart from these, attendees get to check out the best of comics – both local and international, books, merchandise, action figures, and also interact with comic book writes and designers from all over the world. Also, this event is expected to house the biggest ever cosplay event in the city. People in great costumes win an assured prize for sure, and one lucky winner (out of 5) gets a chance to win A TRIP TO MIDDLE EAST FILM AND COMIC CON 2016.
You may purchase tickets to the event from punecomiccon.com or directly from the venue. The limited Super Fan passes, which gives you access to both the days, should be booked online and won't be available at the venue.
Venue- Deccan College Convention Hall, Decaan College Road, Yerawada.
Date- 20th and 21st February, 2016
Time- 11am to 8pm