A rural family migrates to the Maximum City hopeful that here they might better their lives. But Mumbai doesn't warm up to them very easily. They lose their entire savings to frauds, and penniless, they end up living in an under-construction site. A chance encounter with a discontented employee of a security firm (Manav Kaul), lands Deepak (Rajkumar Rao, head of the family) a job of a security guard in an armored truck company, while his wife Rakhi (Patralekha) adds to the income working as a bar dancer. Deepak soon registers that their meeting Kaul is not what it seemed, and there's more to the play than mere chance.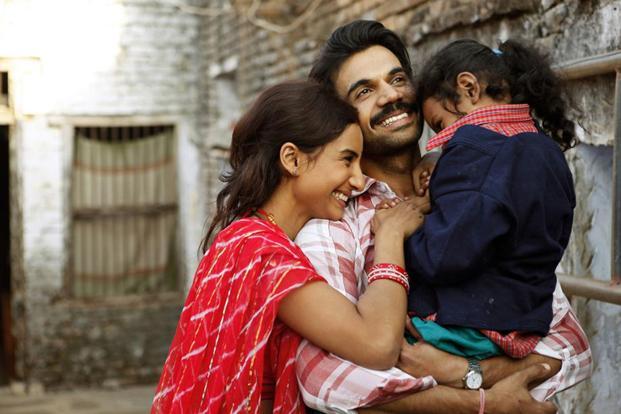 There are several moments of hopelessness and desperation captured in the movie, each moment having you empathize with the characters even more. The music is employed here as a tool to emphasize every emotion, and that's really sad. Understood that the story's scope is limited, but incorporating these elements went against the film. The narrative's proceeding smoothly, something happens on screen, then there's a 'you-should-feel-this-way' background music guiding you with your emotional drives. Irritating. Mood-killer. Not only does it dull down the entire essence of the film, but it also berates the brilliant performances delivered. Even the songs could have had the editorial scissor. They make the film linger too long.
Rajkumar Rao has another major accomplishment in his acting portfolio. This man has shaped himself to play your next-door guy, and that he does with aplomb. Patralekha performs decent in her limited role. The best character in this film is definitely Manav Kaul as Vishnu, his shrewdness typical of a pop-cultured crime thriller. The other supporting characters – like the drug lord and security firm manager, do justice to their roles. And where the film scores so high on performance, it completely loses out in its aesthetics – the frames look extremely dull.
I haven't seen Metro Manila, the British film that inspired CityLights, so comparing these two is out of question. Hansal Mehta has crafted a decent story on penury, but making this film tight-rope between commercial and art cost him dearly.
Overall Rating : 2.5/5