Director Rohit Shetty's forthcoming movie 'Chennai Express' now runs on a new platform- your Android/Java enabled smartphone- as a game titled Chennai Express: Escape from Rameshwaram, thanks to Disney UTV's digital arm. The game experience is quite similar to Temple Run and Subway Surfers among others. A player has to control Rahul (Shahrukh's character in Chennai Express) as he sets off on an adventure and attempts to escape Rameshwaram. On the way, he has to elude several obstacles spanning from trucks, autos, buses, coconut-carts, etc. A player can also unlock Deepika Padukone's avatar by collecting 10,000 coins or more in one game session.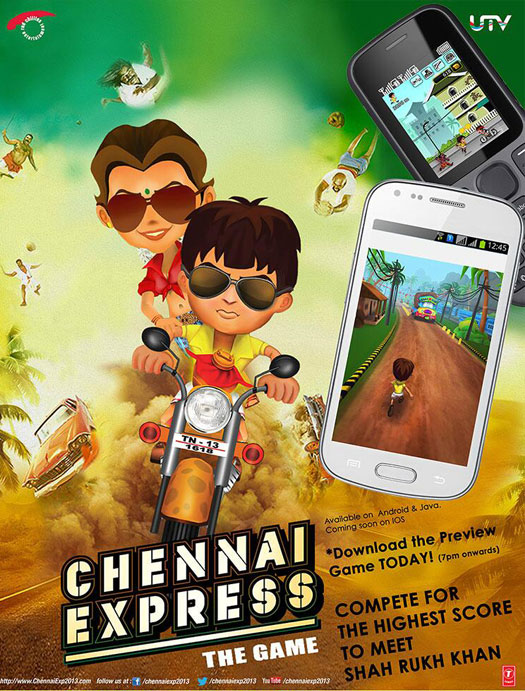 Shah Rukh said in a statement-
To capture a movie in a game format is one of the most difficult and creatively challenging things to do. The movie has a vision and a theme, which a game needs to carry forward and keep the gamer engrossed in. The 'Chennai Express' game captures the theme, the graphics and the mood of the movie brilliantly. I had a lot of fun being a part of the process of making this game. Hopefully the avid gamers will find this one as much fun as I do.
The movie Chennai Express hits the screens on the occasion of Eid, i.e., 8th August.
You can download the Chennai Express: Escape from Rameswaram for Android and Java by clicking the links. The game-developers have assured an iPad and iPhone version of the game close to the date of movie release.