Biocon an Indian biotechnological company has developed a drug for breast cancer along with a US based biotechnological company Malyan. 'CANMAb' will reportedly hit Indian markets next month and will be available at a discounted price for the patients. This drug will be manufactured in its Bangalore based biologics facility.
'CANMAb', will be available in 440 grams and 150 grams, at a price which is nearly 25% lesser than the already available breast cancer drug 'Roche's Herceptin'. Roche itself charges lesser for the drug in the developing countries as compared to the developed countries of the world.  Currently the price of 440 grams Roche's Herceptin is Rs. 75000/- where as  Bicon's new 440 grams CANMAb will be available at Rs. 57500/-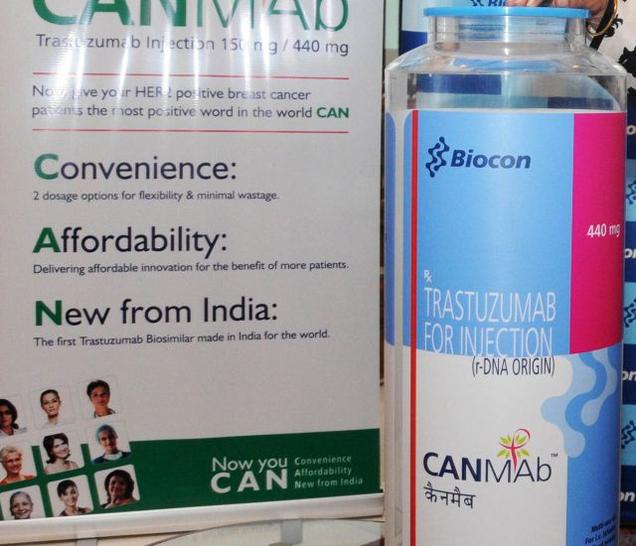 According to Bicon, "In addition, CANMAb's 150 mg formulation, priced at Rs 19,500/vial, will allow extra savings to patients as they can buy smaller quantities as per their requirement"
Biocon Ltd CMD Kiran Mazumdar-Shaw stated, "Biocon intends to make a significant difference in the treatment paradigm for HER2-positive breast cancer in India by enhancing access to more affordable treatment with CANMAb (biosimilar trastuzumab), which offers the same level of safety and efficacy as the reference product."
CANMAb is the first biosimilar drug to Roche's Herceptin whose global sales stood at $6.4 billion whereas in India it stood at $21 Million.