In a major development, Indian scientists at with the Bhabha Atomic Research Centre (BARC) have hit gold by making sea water drinkable, and also a lot cheaper as compared to earlier processes. The pilot plant at Tamil Nadu's Kalpakkam employs the waste steam from a nuclear reactor to purify seawater, and the output is a massive 63 lakh liters each day. This new method can effective solve the drought situation faced by many Indian states and cities, including Maharashtra. As per their reports, desalinated water tastes equally good as fresh water, and has TDS lesser than hundred. People at Kudankulam plant are using this processed water for drinking and for other activities.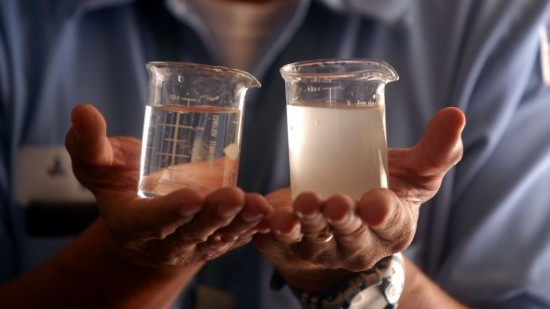 KN Vyas, Director, BARC, explained that this is not for the first time that their scientists have come up with solutions against water shortage, and their research team has already developed many membranes to inexpensively treat groundwater contaminated by uranium or arsenic, and is made fit for drinking. He added that similar water treatment plants have been set up in states of West Bengal, Punjab and Rajasthan.
Indian Prime Minister Narendra Modi, while on his recent visit to the BARC plant site, applauded the collective efforts of the scientists and congratulated the team on its success. He even pedalled a bicycle that had a water purifier installed on it, where the pedals produced enough energy for the purifier to run and treat contaminated water into drinkable fresh water.
The researchers have also developed many low-cost filters and thin-membranes for household water-purifying usage, which could be of immense help in the drought hit regions of Telangana, Marathwada, etc.
Subscribe To Indian Nerve