Cliches and buffoonery aside, S S Rajamouli's latest magnum opus Baahubali – The Beginning is actually an entertaining film of a man with super-human strength, who as a baby was taken away from his family to be raised by a local tribe, who on his own could support the weight of a 10-storey building-sized statue, and who can also scale the crazy heights of mountains, tips of which are mostly hidden in clouds. On that great height lies a CGI-developed fantasyland Mahishmati, destined to be saved by this agent of God.
It's a beautifully designed space, this spectacular Mahishmati, which comes out to its maximum glory during the second half. The VFX employed make sure to cover up for an indistinguishable story, and in some sections even the dull acting. Coming to actors, Tamannah gives a proper tribute to Salman Khan by walking very much like him. She even gets to wear the absurd pendant, and her warrior antics soared through various levels of absurdity. Prabhas in the titular role is better. He gets to show off his nicely sculpted bod, and it's in the war scene that he performs in true flourish. He and Tamannah engage in a stripdance sesion, where he strips her body armor and turns her skirt inside out to show her how beautiful she is. And then they fall in love. Better love story than Twilight and all, but still meh.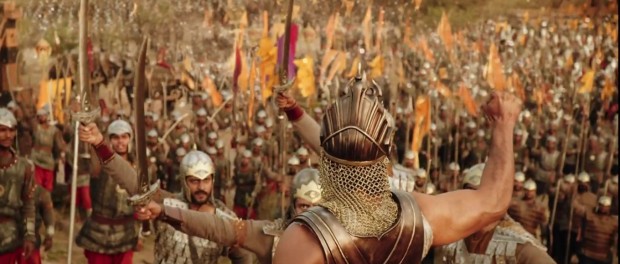 Ramya Krishnan as the king's hand is brilliant, and Sathyaraj as the loyal warrior-slave Kattappa is the most convincing performer of the lot. Kichha Sudeep has an important cameo in the film, and he owns the frame he's in. Anushka has very little role in the first part of the film. Hopefully she has more screen presence in Baahubali – The Conclusion scheduled to release next year. Rana Daggubati flares his eyes and flexes his muscles well, and that's all he does in the entire length of the film.
The first half of the film is laughable. There's little character and story development, and too much focus on glorifying the heroism of the lead star. It's the second-half where the film realises its true potential and is truly engaging. As most Telugu films, we are thrown into a flashback sequence where the director has picturised one hell of a war, complete with a whole new wildling army, the action and bloodshed contributing to multiple eyegasms. The fight sequences and stunts are very well choreographed with some really awe-inducing moments. The song and dance sequences only add to the drag, and could've been entirely scissored.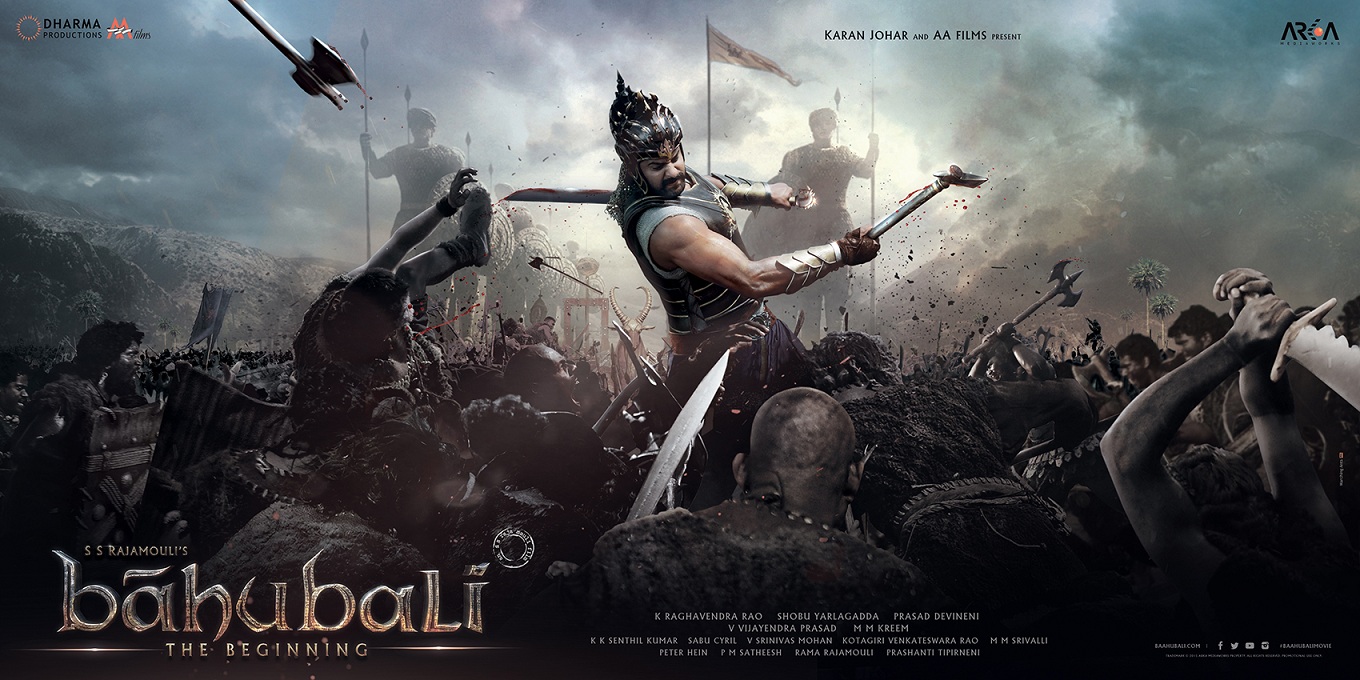 Part-I climax is good, and it's the only thing that makes one anticipate for the second and final installment in the series. And yes, Anushka Shetty kicking some serious ass is something we would love to watch.
Overall Rating : 3/5