Tech-giant Apple is now embracing the 'dangerous curves ahead' by developing new iPhone designs featuring bigger curved glass with enhanced touchscreen sensors which can detect various pressure-levels. Two models (4.7-inch and 5.5-inch- both significantly bigger than the 4-inch Retina Display in iPhone 5s) are being planned for a likely release in late-2014, and the pressure detecting tech may be incorporated in following models (The pressure-sensitivity tech is still undergoing testing and it's unlikely to feature in the upcoming iPhone releases), states the reliable Bloomberg. In theory, this implies Apple releasing two phones on the same day, but this won't be a first for Apple since it already pulled off a double this year with iPhone 5s and iPhone 5c.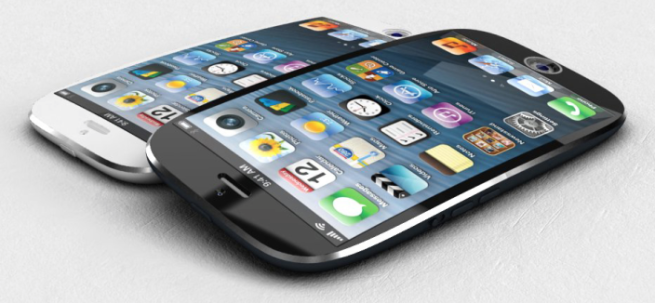 The large iPhones, once launched, shall be direct competition to Samsung's Galaxy Round and LG's G-Flex that flaunted their curves first in the market. Samsung, which has been soaring way ahead in the smart-segment with its assorted devices should've readied new beauties by then, hopefully. It has, in every way trumped Apple a far as the large screen sizes are concerned.This time, it pioneered the innovation in curved screen too, that addresses some major issues- it curves up to so that the speaker is close to your mouth, thus simplifying talking on the smartphone. The curved panel (which offers more privacy and delivers better media renditions) and the unbreakable glass are a bonus feature pulling in more customers. So it was pretty obvious that Apple would jump the gun to get there soon.The new iPhones are still in developmental stages.
To lure in the customers who're satisfied with their current display-size, Apple has brought in the enhanced pressure sensitivity into picture, that'll make using the handwriting and drawing applications on the iPhones and iPads so much more awesome to use. Amateur graphic illustrators and doodlers may want to consider this. There's hasn't been an official statement about the iPhones from horse's mouth yet, but Bloomberg being the source puts in gravity to the rumors.
Earlier this month Apple launched the iPhone 5s and 5c with 4-inch retina display, breaking its long standing tradition of introducing one device at a time. The iPhone 5s with all the advanced features is available in three variants- the 16GB priced at Rs.53,500, the 32GB at Rs.63,500 and the 64GB version at Rs.71,500. The iPhone 5c is available in 16GB and 32GB variants priced at Rs.41,900 and 53,500 respectively.
Image Source: 9to5Mac