"I am no bird; and no net ensnares me; I am a free human being with an independent will."
-Charlotte Bronte
A woman plays a lot of roles in her life – she is a mother, lover, teacher, leader and a wife – all that in a world full of hypocrisy and misogyny. Her hardships begin at a young age when the society furnishes different set of rules based on gender, she is told about her weakness and vulnerability and hence the societal curfew is forcefully justified on her. She wants to fly but her wings are clipped in the name of sanskaar, she wants to fight but public resentment makes her feel weak in the big patriarchal world, she wants to lead but instead of a push, the society puts the weight of responsibility on her. But the world forgets among all the roles that a woman plays there is another role which despite being the most dominant of all, hides under the veil of docility – behold the Angry Indian Goddess.
Frieda, a fashion photographer, who is trying to balance her job with her artistic pursuit, invites her friends over to her ancestral home in Goa only to surprise them with her decision to get married. Though Frieda keeps the identity of the groom hidden, the band of friends jump in nevertheless into the bachelorette party mode. but not all is well in the lives of our Indian Goddesses. Suranjana (Sandhya Mridul) is a workaholic who can't afford spending time with her only daughter and hands her a smartphone to keep her occupied, she is missing out on her daughter's childhood and she doesn't even realise it in the hullabaloo of her corporate meetings; Joanna (Amrit Maghera) is a British-Indian who is struggling to get performance oriented roles in the objectivity laden world of Bollywood; Pam, a sincere student who killed her future to get married at young age, harbours business ambition but her less than enthusiastic husband keeps her chained in the shackles of 'Adarsh Bahu'; Nargis is a social activist protesting illegal land grabbing by the corporates; Laxmi is a courageous maid in Frieda's house who is welcoming to guests but a nightmare for harassers. Now, you might get a sense of losing the plot because of so many character lines integrating with each other but let me tell you that the amalgamation of all the character tales is so realistic and smooth that you never feel the burden of following so many individual journeys rather the story of each character compliments the other ones. Nalin encapsulates so many small plot elements into the story and yet the overall tale remains coherent and realistic. There is workplace misogyny, perils of arrange marriage, homosexuality, suicide and revenge rolled up into one gigantic tale of liberation.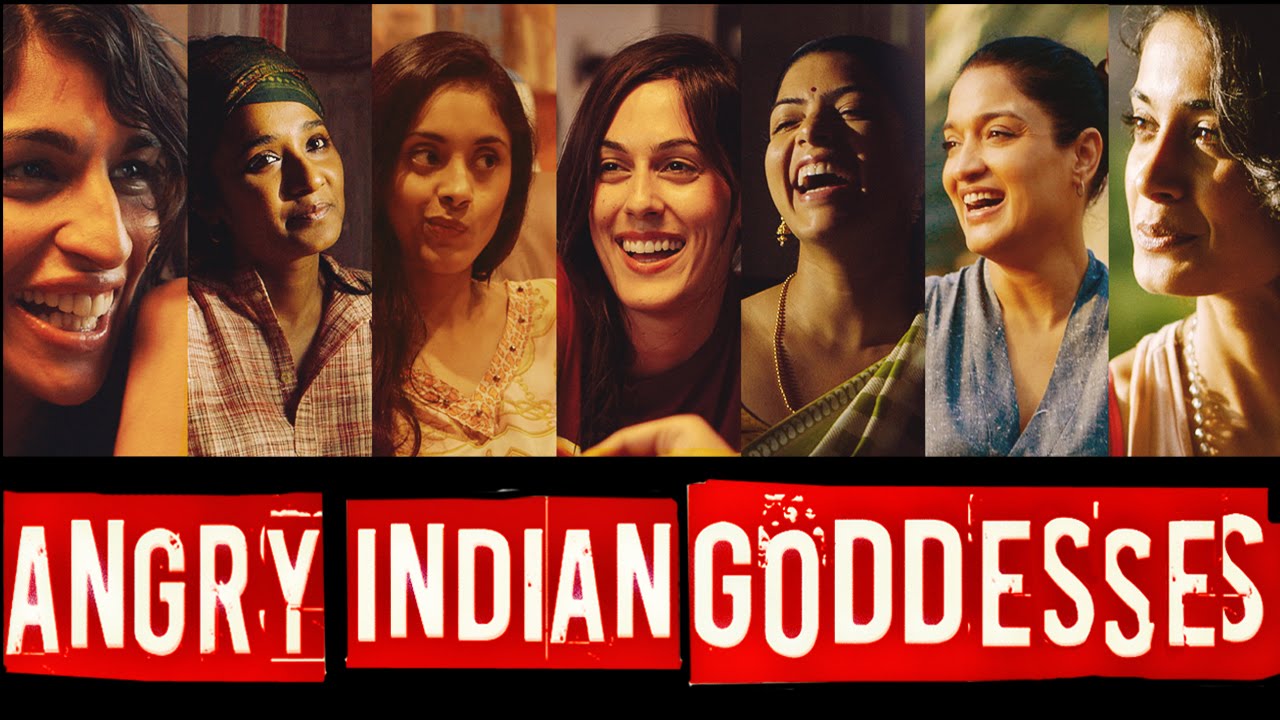 A.I.G is a beautifully shot, directed and edited panorama of different shades of feministic journeys. Every character is on a different path but is connected by the 'urge to break shackles of the society'. Pan Nalin, who is an award-winning documentary filmmaker successfully creates a world so real that every female viewer will find reflections of herself in at least one of the characters of the movie. What adds more realism to A.I.G is the heartfelt yet natural performances of the actors. The film becomes even more superfluous in the use of fusion music which beautifully blends the theme of 'Angry Goddesses' with 'Modern Indian Women'. The song Zindagi' sets the grim undertone of the second half perfectly and it is also the song that will remain on your mind even hours the movie ends.
Movies like Angry Indian Goddesses are honest renditions of sensible storytellers like Nalin and in times like today's this movie holds immense relevance as it asks certain tough questions about our society that we need to answer soon. It also in a way provides more power to our women by affirming that 'only by breaching the societal curfew will they truly claim their place in this world'.
Overall Rating: 4/5