Banking on the fact that I became a loyal fan of Khaled Hosseini while I turned the pages of 'The Kite Runner' and ran to the book store to read more of his work, only to find 'The Thousand Splendid Suns', and reaching the end of both of these books with a lump in the throat – I waited eagerly for his next venture, as did his million followers. With so much excitement, anticipation and a plate full of expectations, avid readers knew 'And the mountains echoed' was a book sold-out way before its release. And the author certainly does not disappoint. All he does his delight his readers with a novel based on brother-sister relationship that cups your heart in an affectionate warmth.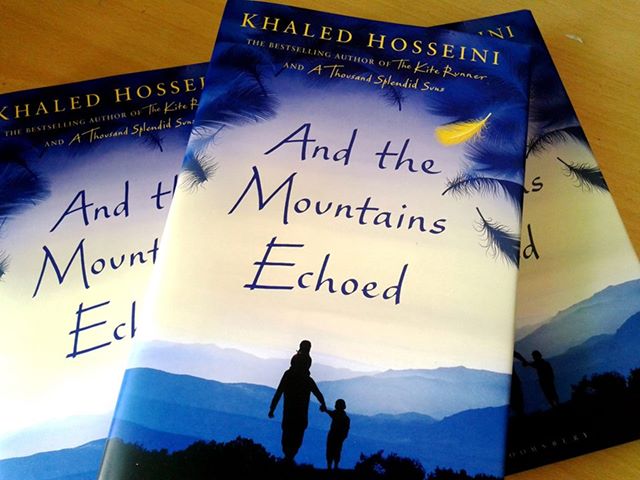 You take this book in your hands and if a 'story' is all you want to have, a story is what you will get. And quite a remarkable one at that. The short sentences and the fast pace grip you right from the first pages. Starting with a bedtime tale, you are taken on a not-so-dramatic journey about parting and uniting of two siblings that spans across Afghanistan and Paris, United States and Greece. Saboor, a wage labourer trades off his daughter Pari to an Afghan woman Nila Wahdati, so that he could save his remaining family from starvation. Leaving her dying husband (who is a homosexual deeply in love with his chauffeur) behind, Nila flees away with her adopted daughter in hope of a better future. Circumstances just increase the distance between the siblings, who reunite at the dawn of their lives, with Abdullah suffering heavy dementia with most of his long-term memory lost. The unique way in which Hosseini lets his characters unfold one by one is something quite perplexing. But to what ends?
Though none of your emotional waters are left un-rippled, the story does have certain loose ends. I can't help but mention how some of the not-so-secondary characters are going to have a deep impact on the readers.  For instance, the lead protagonists – Pari (sister)  and Abdullah (brother) get side-tracked by the long and a bit sluggish record of a Greek doctor's boyhood years, the sole purpose of which is to justify his choice of profession. Especially the story of the friendship between two Afghan boys who discover how their fates have been poisoned by the feuds between their forefathers or the twin sisters – Parwana & Masooma. Lastly, the most elaborately described character of the book, the poetess, Mrs. Nila Wahdati is one character who will leave a lasting impression on the reader's mind.
It's only toward this beautiful tale's end, which by the way happens in the signature Hosseini-style transcending time and distance, that you fall in love with the simplicity of the story.
Order your copy of Khaled Hosseini's 'And The Mountains Echoed' from Flipkart today-