WhatsApp today introduced a new feature which will allow users to see if a message that they have sent to their contact has been read. Named as a 'Read Message' feature, the updated WhatsApp shows two blue coloured ticks which confirms that the recipient had read the message. The new feature stays controversial since inception as it almost killed the privacy of user. Whatsapp seemed to have gone too deep in facilitating the user but undermined equally needed privacy.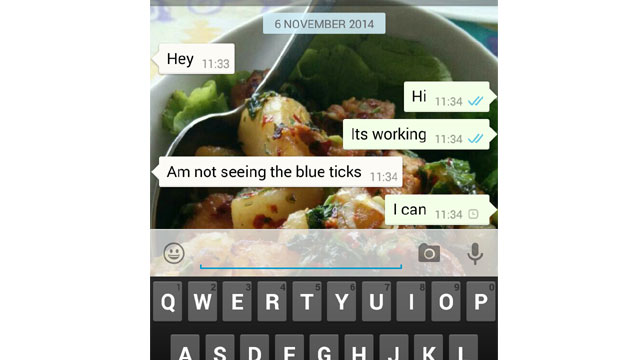 The tick will turn blue in both one to one conversation as well as in group chat or in broadcast message as soon as every member in the group has read the message. At present, Whatsapp shows two tick marks, the first tick indicates that WhatsApp's servers have got the message, the second assures that the recipient has got the message. Before this update, users had to long press on a message to get info on the message and it would show when the Message was delivered and read. But now Whatsapp took off that pain also.
The new feature isn't a part of an update to the app, rather over-the-air update has been sent to the iOS and Android devices. This surprised many users after ticks on their mobile screens suddenly changed its colour without any update installed.
Another new thing we heard from the 9to5 mac report pointing out that a site named Droidapp.nl has managed to get its hands on images of the Voice-Calling feature of WhatsApp and it is expected to be released in 2015. The feature was due to launch this year had been delayed said Jan Koum, CEO, WhatsApp.