Chetan Bhagat strikes back, this time shouldering huge ambitions, responsibilities and dreams of Young India, albeit over weak shoulders. What Young India Wants is a collection of essays, speeches and columns, where the Bhagat-animal roars back to life only to show his outstanding capability of nibbling up a few topics, which could've enjoyed some little more depth. As much as he has stressed over the 'What should be done', he fails to add anything on 'How it should be done.' Times Of India readers shall be left disappointed, as most of the essays/articles that feature in this book have made merry as the paper's weekly column, with just a few fresh ones to embrace the eye.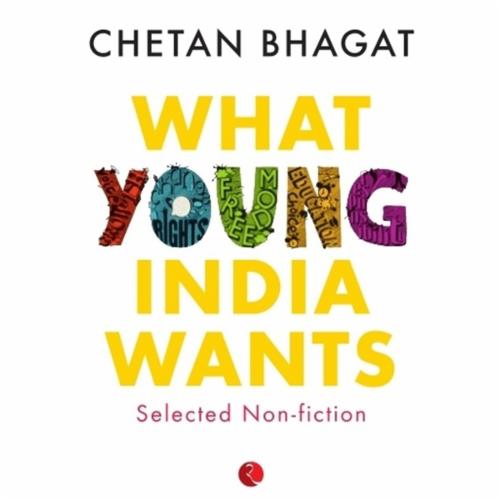 This book voices Bhagat, through its various portions on society, politics and the youth, with his light-vein take on current affairs of our nation. The initial pages unfold to narrate Chetan's story of how he developed as an Indian, and this is one part he should've skipped. Totally useless. Then he moves over to important national issues like the Bhopal Gas Tragedy, German Bakery blast and later even touches various scams like CWG, 2G, IPL etc. which are passionately kissing our country. He has attempted to impart solutions too. And yes, all his chapters have a jolly heading- "Ready For A Spring Cleaning?", "Don't Worry, Be Happy", "Spark", "Where's My Nobel Prize?", "The Cut-Offs", etc. to name a few. See, sunshine smile is all you need to free this country of its problems. Easy peasy. Beneath these jolly titles lie hard questions, but the answers are equally shallow, to say the least. At one instance, Bhagat's conclusion is "politician-industrialist socialising should not be encouraged". No shit. But "How?" again. Whatever he's said ain't wrong, I don't deny that, but the tip-of-the-iceberg feeling makes you believe that he's neither a thinker nor a doer.
From what the excerpt promised of the book, it's a total letdown. If you just wish to touch up on some of the nationally relevant facts you missed while growing up, or if you just want to read your 'Number One Author' again, go for this book. If you wish to see the golden fishes, I'd recommend you not to jump in this pool.
You may order your copy of What Young India Wants here:
[highlight]Overall rating: 3/5[/highlight]