Always ready to dwelve into offbeat topics for his movies, national award winning director Sachin Kundalkar is back with another interesting movie concept in his latest Marathi flick 'Vazandar' – starring two leading ladies from Marathi film industry – Sai Tamhankar and Priya Bapat. The title of the film literally means 'heavy weight' and amazingly enough this light-hearted film is successful at highlighting the message it wants to give to all the young ladies out there – Being healthy and having self-confidence is more important than having that so-called perfect zero-figure body.
The trailer of the film made it pretty obvious to understand what the film is all about. The movie is about two friends tackling their weight loss issues after an embarrassing event brings them face-to-face with their over-weight bodies. And just like every other girl around you, the duo try everything possible possible for losing those extra kilos. Of course, much to their dismay, all the unhealthy ways they employ to achieve 'quick' results in their weight loss journey, turn into big disappointments.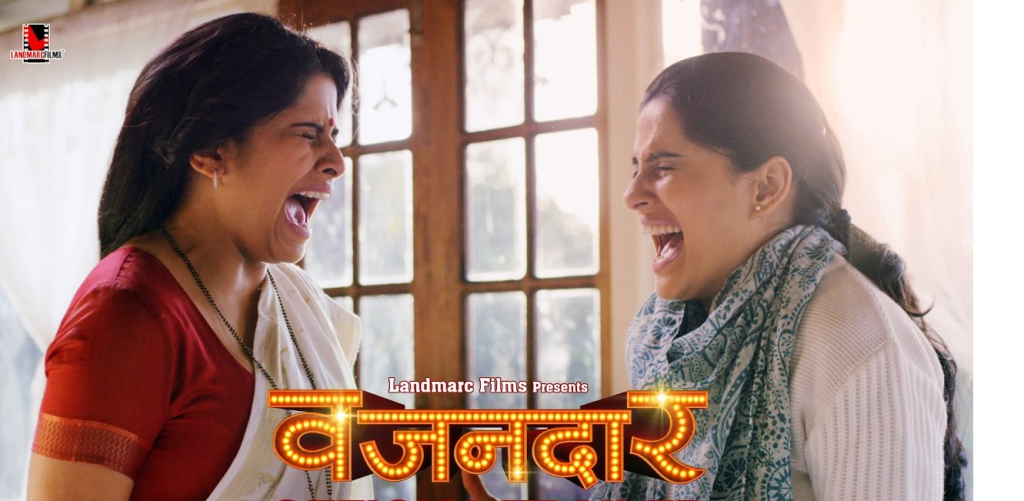 This is the part where the movie becomes highly relatable. The duo – Sai as Kaveri (a newly married girl in a wealthy family) and Priya as Pooja (computer engineer with big dreams for future) are shown trying every other thing available in the market – drinking cups & cups of green tea, using sauna belts they sell on those teleshopping sites, walking around for hours, trying to follow every new diet plan on the internet only to feel drowsy and ending up hogging whatever food they can get their hands on, and what not! Does it not sound relatable? It indeed does! Most of us have been there or have at least one friend or family member who has been trying badly to lose their extra fat accumulated over the years.
Rest of the movief is the journey of how the two come to the understanding about what's best for their bodies and their self. A major part played in this journey for them is by Siddharth Chandekar as Pooja's friend and by Sameer Dharmadhikari as Sai's Gym trainer. Both these characters help the leading ladies as well as the audience learn a lesson or two about what's right and what's not for a person's well being.
Even though it is such a simple movie, it makes a bold statement about overcoming your inferiority complex. It tells you that real beauty lies not just in outer appearance, but being confident and feeling happy. Somewhere down the course of this movie, the message that – you need to love yourself and say a big-fat "nay" to body-shaming elements becomes loud and clear.
As said earlier, the movie is highly relatable for anyone who has gone through this entire process of losing weight to look like those magazine models or their favorite bollywood star. However, for others, it might seem like a little too much repetition of the issue at hand. The movie also gets really slow in various parts and those who can't relate to the story on the screen may find it bit of a drag.
It's definitely the acting department where the movie ranks high.
Sai Tamhankar has given up her usual glamourous avatar for the role of a newly wed lady who roams about day-in, day-out in a saree, sticks to the traditions of her in-law's family, portraying beautifully the life of a woman who loves the comfort of her home, but also wants to break free and take her decisions on her own. She does complete justice to her role. On the other hand, Priya Bapat also looks and behaves convincing in the role of a plump girl who wants to fit in what she calls the 'regular size' and not be an outcast because of her weight. Siddharth Chandekar (as the supportive friend) and Sameer Dharmadhikari (Gym trainer at Talwalkar's in a no-questions-asked role) perform really well.
There are two songs in the film that you will definitely hum as you walk out of the theatre – 'Tu Tu Tana disco' song and 'Chubby Chubby Pari Tu'. Singers Rohit Raut and Priya Bapat have done an excellent job in the latter one.
Overall the film is a really good one-time watch to catch this weekend with your family or friends. It does not get preachy and leaves you with the thought lingering in your mind about choosing healthy and feeling healthy.
Story, Screenplay, Direction – Sachin Kundalkar
Music – Avinash-Vishwajeet
Cinematographer – Milind Jog
Producer – Landmark Films
Overall Rating – 3.5/5