India's music streaming service Saavn has launched a new service wherein it will feature several original long-form audio pieces for its Indian and global audience. Called Saavn Original Programming, the initiative plans to take Saavn from being just an online radio to being a complete audio entertainment hub. It has a plethora of shows including two original narrative series by journalist and radio host Neelesh Misra – Qisson Ka Kona (a storyline programme) and Time Machine (a mythological show) – which will debut on Saavn come May 1.
The announcement even included an original true crime series 'Trail By Error: The Aarushi Files' along with shows like 'Maed in India' which features performance and interviews of top indie musicians, and 'Cyrus Says' which is a comedy talk show by Cyrus Broacha where he'll discuss the current events in a lighter vein. Geek Fruit series shall be more oriented towards fans who love comics/games and other geeky stuff.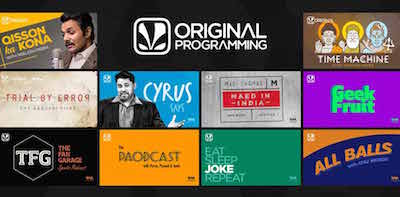 Apart from this, Saavn has even introduced the Artist-in-Residence program, a creative platform featuring the cream of new bands and musicians. The first Artist-in-Residence is Nucleya, the popular EDM Indian indie artist. Nucleya commented on this association saying that it's an incredible move that will tremendously help the indie music scene. He added that this had tremendous potential as a business plan. This kind of collaboration is what big labels need to extend, and it gives artists a space to create what they like and want.
Rishi Malhotra, Saavn CEO and co-founder, mentioned that Nucleya is cool because its music is very difficult to be categorized. This is the future of music, he believes, to not be restricted by category. These labels give artists freedom.
Nucleya is very kicked about this partnership, and said that he'll try his best to push his music to global standards. Malhotra stated that he's roped in some more artists from India and US, but refused to divulge any information about them.
The Saavn app will be updated on the third week of April to accommodate the new programmes, and users will get to see the new app design there itself. Plans are on to include videos on the platform as well.