A new wearable, gesture-based gadget called 'Fin' has been developed which transforms your human palm into an efficient touchscreen. The ring-shaped tech when worn on thumb, could communicate up to three different devices at a time- like smartphones, car radio and smart TVs – via Bluetooth. Just slight swipes and taps shall send your commands through.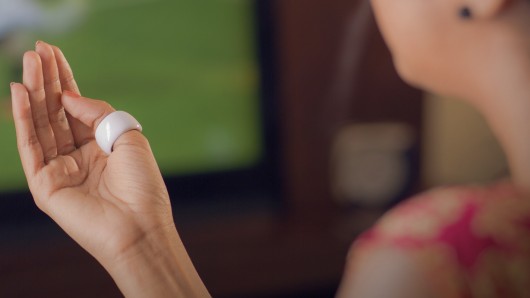 Fin has been fed with five pre-programmed gestures, and it lets users dial a number and write a text message without actually touching the phone. Even your television volume can be controlled. Rohildev Nattukallingal, founder of RHL Vision Technologies (the startup that created Fin), believes that people's schedules are constantly getting busier by the day, and yet they waste a significant amount of time interacting with their smart gadgets. Fin could prove beneficial in bridging that interaction-gap between the user and his gadget. Rohildev added that this natural application can aid visually impaired people.
In a single charge and at power saving mode, Fin can deliver for a whole month. The device could be availed in five different colors starting September 2014, and is priced at a reasonable $120. The creators also plan to release a software development kit so that they could develop their own applications specially designed for Fin.