Ooho!, an all-new concept of drinking water container, resembles a Jellyfish and is made up of a purely 'edible' material. A team from Imperial College of Engineering led by Rodrigo Garcia Gonzalez made this wonder from an esculent process called Sheperification, which forms a gelatinous membrane around a frozen liquid. The process gets initiated when an ice cube is rolled into Calcium Chloride to form a thin membrane; the chunk is then dipped into a solution of Seaweed to reinforce its structure. Finally when the ice melts, it's packed in a transparent, flexible, secure pouch which looks like a Jelllyfish.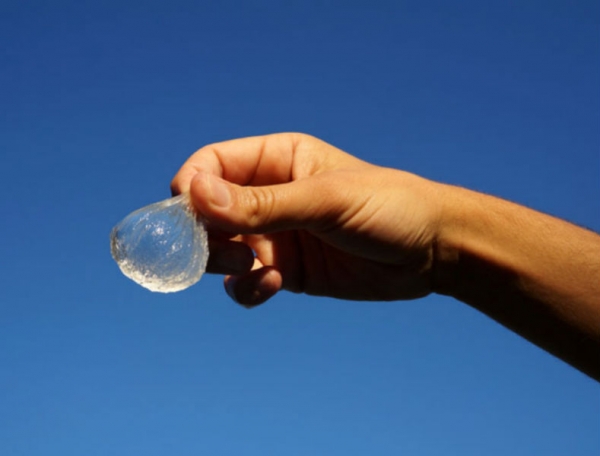 As per Smithsonian.com, this legendary innovation is an eco-friendly replacement to the plastic water bottles and has the potential to put an end to it. Inspired by the juice-filled pearls added to bubble tea and the creations of legendary Spanish chef Ferran Adria, who uses a technique, Gonzalez and his team got this idea for an edible bottle while working on an artificial cloud that could evaporate sea water and transport it to where it was needed, which finally resulted in Ooho!
Rodrigo Garcia Gonzalez too believes that this innovative product isn't market ready yet, water carrying capacity being an issue, manipulating the water as solid ice during the encapsulation and making it possible to get bigger spheres and allow the calcium and algae to stay exclusively in the membrane is the next challenge to look upon. Furthermore, the team will also look upon the resealing methods for the pouches once it's pierced. "Ooho!" was named as one of the 12 winning entries to this year's Lexus Design Award where it went head to head with 1,157 other entries from all over the world.
But once they are up with the kinks, the team is looking forward to put Ooho! into mass production, also Gonzales wants everyone with the knowledge of Sheperification could be able to make Ooho! in their kitchen. It would be a wonderful gesture towards the environment when one would be able to drink and eat the water bottle without making a hole in the ecological system.