Few months after successfully acquiring Nokia, Microsoft finally rebranded the Nokia Lumia as the Microsoft Lumia and in a move to create a seamless experience between mobile and personal computer users, it has launched the first Lumia phones with Windows 10 pre-loaded. Microsoft Lumia 950 and 950 XL are the first phones in the series to boast of Windows 10 and a bunch of other cool features like Cortana, Microsoft Office, One Drive etc.
In an event in Vivanta by Taj, the Director Channel Sales – Ravi Kunwar, unveiled the phones to the press. Both the Lumia phones look similar to the last generation of Lumia Phones but are beefed up in terms of Hardware. Both 950 and 950 XL are similar except in processing speed, display size and price. While the 950 XL is priced at Rs 49,399 the 950 is priced at Rs 43,699.
Other specifications of both the phones are as follows.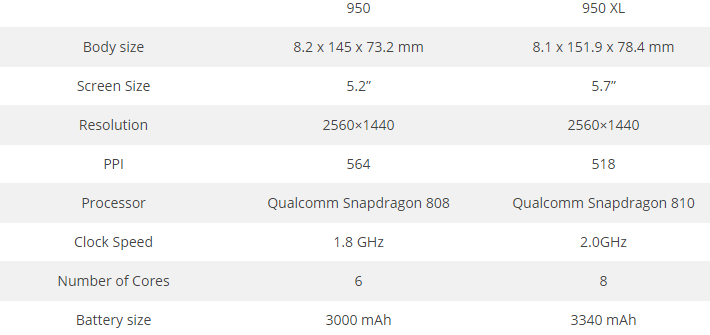 At the event in Bangalore I got a few moments to play around with the Microsoft Lumia 950 XL and here is what I felt about it.
1) The Phone is well built and the outer body is made up of Polycarbonate, which makes the phone not slip from the hands.
2) The 20.7 MP rear camera shoots nice photos even in low light conditions but I observed slowness in the camera app after the picture was taken. The gallery app was also slow to load images.
3) 5.7 inch screen pushes this phone into the phablet category but I had no issues using the phone with one hand.
4) The QHD display is vibrant especially for 4K Videos.
5) The Rear camera can shoot 4K videos .
6) External storage can be expanded to a staggering 200 Gb .
7) Microsoft Display Dock, which comes separately at a price of Rs 5,999 can be used to extend your phones display to a bigger screen. The extended display works concurrently with the RF features of the mobile phone but the dock is wired unlike the wireless Chromecast.
8) Both the phones are Liquid cooled.
9) Unlike previous mobile versions of Microsoft Office, the Office on the new phones are completely identical to the P.C version.
10) Both phones are priced on the higher side of the price spectrum.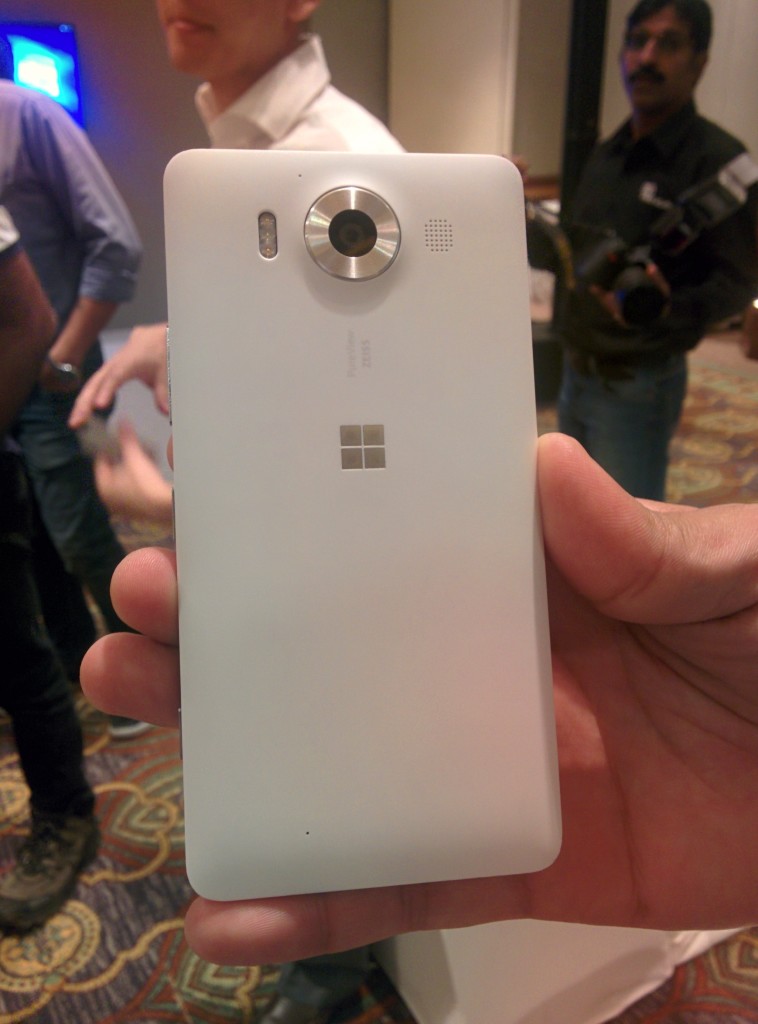 L-R: Display Dock, 950XL (Front) ,950XL(Rear),950 (Back)
Both the phones are available for pre-order here.
A much more detailed review of the 950 XL will follow soon.