Cast: Robert Downey Jr., Guy Pearce, Ben Kingsley, Gwyneth Paltrow, Jon Favreau Directed by: Shane Black Overall Rating: 4/5
The narcissist wise-cracking man in his cool metallic ambience is back to clunk the superhero world- harder than ever. Iron Man 3 has everything you want Tony Stark doing, and importantly, this film engages you more than the earlier two ventures in the franchise ever did.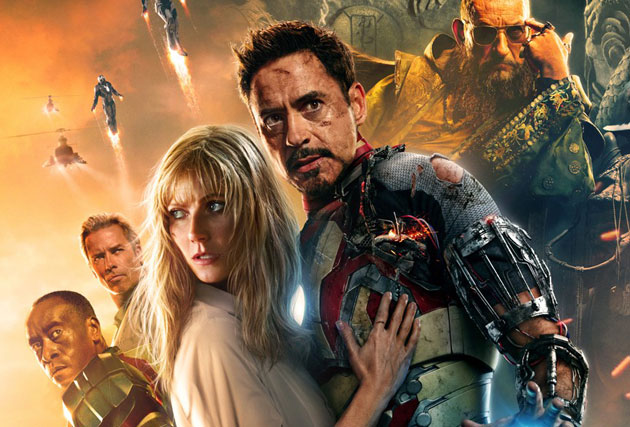 Tony Stark's having anxiety issues as he's just not able to get over the massive alien-army onslaught in New York (The Avengers), and add to his woes, he's not able to get his latest body suit (an automated mechanism that fetches parts of the armor to him following particular series of hand movements) working the way he desires. He finds foe in not one but two souls — in a scientist-cum-entrepreneur Aldrich Killian (Guy Pearce) who's formulated a DNA hacking technology 'Extremis' which grows amputated limbs on people and enhances their bodily abilities, and in a whacko terrorist called Mandarin (Ben Kingsley) who attacks separate parts of America and who shows himself up only in video messages. It's only when Stark's security guy Happy (Jon Favreau) becomes a victim of an attack that Iron Man pumps his iron fists to take on the terrorizing pests.
The franchise finds itself in good hands with director Shane Black, who does well to build over the rusty Iron Man 2, balancing both action and drama in equal measures. Robert Downey Jr. gets to portray wider shades in this film, and carries out every single act with flair. His witty one-liners do well to light us up. Gwyneth Paltrow gets to show more than her hair-styling skills in the film, and has performed wonderfully well. Ben Kingsley totally enjoys himself- with all his weirdo accents and "menacing" looks. Guy Pearce is exceptional, and one can say that he's actually better than Downey Jr. in select scenes.
Iron Man 3 is smart, funny and magnificent, and has laced up enough WTF! and Whoa! moments to give you your money's worth. The climax is a hoot, no doubt, but the last half hour seems a tad too rushed. But giving that fact a breather, this is one film which'll have you whoo-hooing for a long time. Sip your soda, crunch that popcorn, and let the silver-screen serve you awesomeness.
And yes, do have your bums seated till credits roll. There's a surprise. *wink wink*