Here's a small conversation we had with the awesome cast and crew of Sandcastle: The Movie, global premiere of which is slated on 15th October in 2013 Film Festival International in London (LIFF), where the movie's also been nominated in the Best Foreign Language Feature Film category.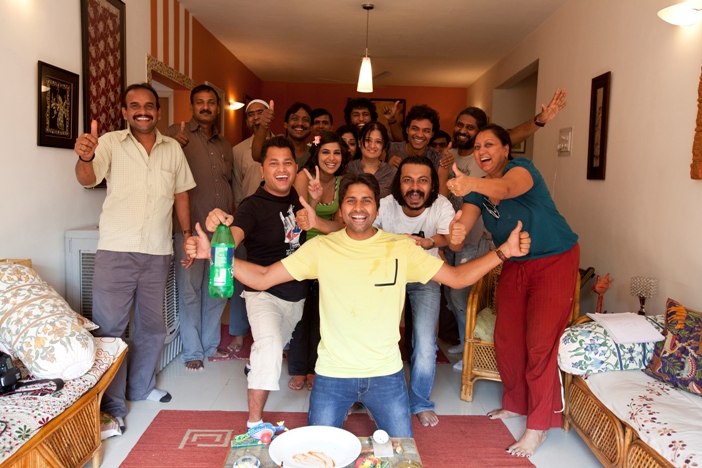 SD – Shomshuklla Das, SC – Shahana Chatterjee, MJ – Malvika Jetwani
Me: Shoma, I'd like to know who/what influences you the most in the field of cinema?
SD: From a film-maker's perspective, what inspired me the most about this medium was the fact that I grew up in a very culturally rich family, with my father being from Santiniketan. So from a very early age, I learnt about Tagore, the aesthetics of art, and all this as the journey has progressed, helped me find my creative pursuit. The journey to cinema for me has been varied, and from taking my first steps in theater in 2007, here I am ready with my debut feature.
And I must add, it was the influence of Satyajit Ray from childhood itself that played an important role because he epitomizes great cinema.
Me: Was there any particular inspiration for Sandcastle's theme?
SD: I write about women, observing the various nuances of their life, because their personalities, very unique and challenging, stimulate me and I like to write from their perspective. I love to dwell into their psychological journey. That is the motivation.
Me: This being a debut venture, I'd like to know the lessons you derived while making the film- all good, bad and ugly stuff.
SD: Fortunately because we worked with such a close knit team of theater actors and professionals, the journey was in some ways without bumps. Of course there was a lot to learn from each of these individuals, and so this has turned out to be a wonderful vacation of sorts for me from the everyday.
Me: If it's all right, may I know what was the budget of the film? Also, what camera was employed in the shoot?
SD: The budget of the film was under 200,000 USD, as we employed a very tight schedule and managed timelines beautifully thanks to the collective efforts of both the actors and the crew.
We used a Canon 5D to shoot the film.
Me: Sandcastle's nomination at various film-festivals at various categories is overwhelming. With indie projects doing good in film fests first and then doing equally good in the commercial Bollywood segment (take Ship of Theseus or Lucia for example), do you think Sandcastle will find its commercial hold too?
SD: To some extent in India it should be possible, as I want the people of India to watch my film and hopefully take the story to the world audience as well.
Me: What kind of cinema do you really despise?
SD: I don't like tasteless cinema, which is non-aesthetic, because cinema is a platform, which should stimulate ones senses and not disgust them.
Me: What differences did you find between the theater-medium and the film-medium? While most actors and directors vouch for theater most of the times, what would be your pick?
SD : The medium of theater is much more difficult for the actors, while in cinema, they get an opportunity to rule out direct audience. But cinema, as a medium can reach out to a wider audience, while theater gets restricted to niches. But I love both equally.
SC : Theater is much more spontaneous, and there are no second takes in theater. Film has its own challenges and leaves a long lasting impact.
Me: Sheila, Maya, Vikram and Koushik are depicted so real that one can almost relate them with a familiar face. I'd like to know to what extent are these characters different in flesh?
SD: The way Sandcastle's characters, Maya and Sheila, were written, I wanted to convey the fact that these same women, could be under the guise of any name, it doesn't matter, but these same stories are happening the world over. It's not a developing country phenomenon, but it gets talked about more here.
SC: For me playing Sheila, was a very contrasting experience. The difference is that as a woman and as an individual, I have never had to follow conventional norms of a woman in society. But as far as some of the messaging in the film, about waiting for the right moment to find your true self, and follow one's dreams and passions, that is something that is close to me.
MJ: It was great playing Maya. Shomshuklla managed to exactly pin-point my nature, and by nature, my colleagues will tell you, I'm quite vivacious. So in a sense Maya came naturally to me, with her quirky behavior and over the top antics!
Me: How satisfied are you with your on-screen rendition? Is there any particular frame (s) where you feel you could've delivered better?
SD: See, this is my first feature, and to all of us, completing it, reaching out to a global audience, getting selected by festivals, and hopefully (fingers crossed) getting it seen in India too, has been a great achievement. What more could I ask for?
Me: Any upcoming ventures you'd like to let our readers know about?
SD: Absolutely. I believe that once you've embarked on a journey of making cinema, one mustn't rest! I'm working on my second film. It's a romantic feature, and I should be able to showcase it shortly.
Me: Thank you all for the co-operation. It has been a real pleasure interacting with you. Hope your wonderful film bags the many awards it so rightfully deserves.
SD: Pleasure was entirely ours. Thank you so much for all the kind words you put in. The review was fantastic and truly hit the right chord.