It's early 1960s of Cold War America, and racial segregation is very much pervasive, even at the shrine of science that is NASA's Langley research center. It's here that we're introduced to our three colored leading ladies, who fight their separate fights within the organisation and ultimately win the respect and recognition they deserve.
The best American minds are working out a way to orbit John Glenn around the Earth and then bring him back to land safely, and they wish to achieve this feat before Russia does. The Mercury program demanded much of menial calculations, a task delegated to 'human computers', a team mostly comprised of black women. Leading this team is Dorothy Vaughan (Octavia Spencer), who does it without the perks and title that should've come with her role. Her peers Katherine (Taraji P. Henson) and Mary Jackson (Janelle Monae) have amazing mathematical and engineering skills and are soon assigned to the Space Task team and Mercury capsule prototype, respectively.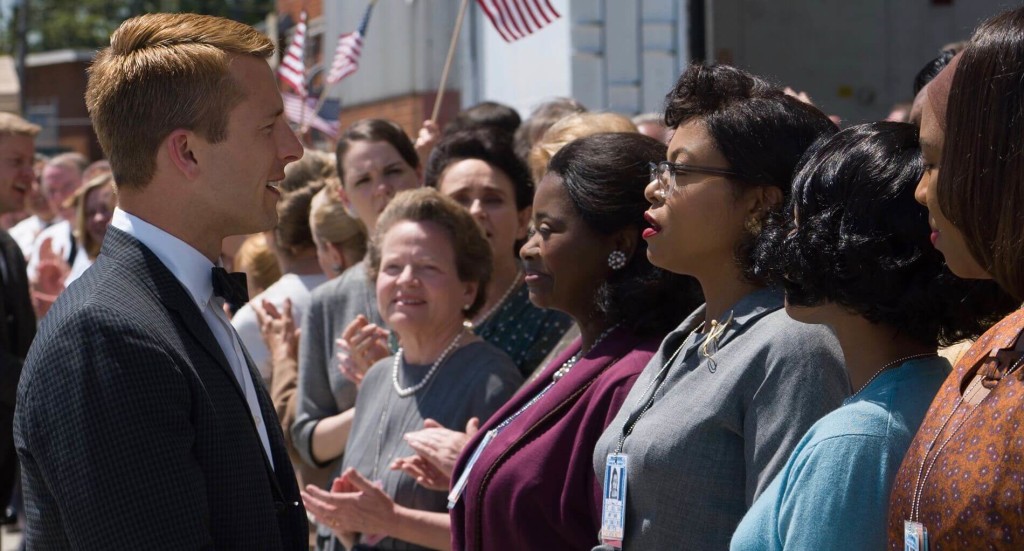 NASA is still in its pre-electronic era, and Dorothy is worried that once NASA adopts IBM's FORTRAN, the 'human computers' would be pretty much out of job. She takes initiative and studies all that she can about the mainframe, and even imparts her learnings to her team. When there actually comes a day when NASA installs the IBM mainframe and not one person knows how to operate it, Dorothy and her entire team make a smooth transition from manual-to-machine and stun everyone with their agility. I found it to be one of the major highlights of the film, where Dorothy's cautionary and adaptive stance not only helps her save her own job, but opens up new avenues for others as well.
Katherine now has an important role, but no one in her team is taking her seriously. Her boss (Kevin Costner) is having an inner struggle of his own, and while he's too busy to notice Katherine's efforts, over a period he starts believing in her abilities and asks her to be included in much complex calculations. Similarly Mary has impressed her boss with her quick understanding of all things engineering, and he pushes her to pursue a full-time degree from a reputed university. Of course there are hiccups, but it's when she stands to take on the impossible that we learn what a fierce and smart negotiator Mary is.
The dialogues at time tend to become social commentary that thankfully works in the favour of the film. Costner's "At NASA, we all pee the same color" statement deserved a standing ovation of its own. Director Theodore Melfi does not experiment with any new filmmaking techniques but keeps the whole affair simple – he sticks to the story and tells it with great aplomb, exactly the treatment it needed. The acting department led by the three ladies is phenomenal, as is the Pharrell Williams soundtrack.
There were a few goosebumps registered while watching the film, and like many others I honestly kicked myself for not investing more time in studying science. Hereon if I'm asked to recall geek-superhero films/books meant to inspire, 'Hidden Figures' would be one of the top titles in that list. Oscar Best-Picture nominee? I'd say it stands a chance.
Overall Rating: 4/5
I look forward to read the book by Margot Lee Shetterly that inspired the movie.