The relationship between movies and jailbreaks go a long way, but this one features Sylvester Stallone as a jail breaker, so you know, it deserved a see.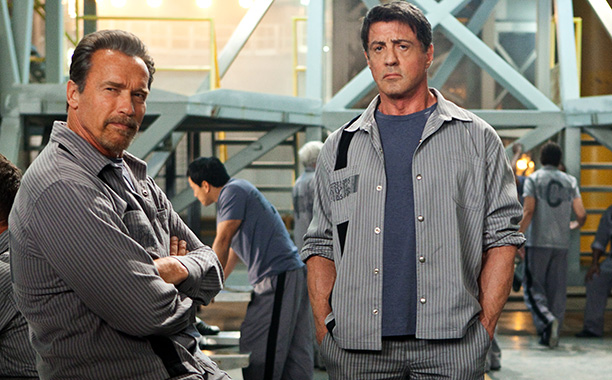 The movie revolves around Ray Breslin(Sylvester Stallone) who writes a book on structural security and upon his partner Lester Clark's (D'onofrio) insistence, takes up a job where he pretends to be a prisoner in an ultra-modern security-packed prison situated at a closely-guarded location and then, escape from the prison alerting the prison-authorities about the security's loopholes. He along with workmates Abigil (Ryan) and Hush (50 Cent) meet at New Orleans and then begin series of power-packed desperate events of action. Breslin decides to plan the escape with a fellow inmate Emil Rottmayar (Arnold Schwarzenneger). While Rottmayar is impossible and lives on his whims, Ryan is as cool as a cucumber and both face the situations with equal elan. Then comes the evil warden Hobbs (Caviezel) who confuses us with his personality. He collects butterflies but beyond this personality, there is a boiling pot of plot cooked with vengeance and there is Dr. Kaikev (Sam Neill), with critical sense of conscience. What's the plan to escape? Is it dangerous?? It is known post interval which is fast-paced..
Sylvestor Stallone and Arnold Schwarzenneger hit it off and deliver spectacular performance. Action is in their blood and it is clearly reflected. Right from their biceps to their bod to their fitness, they are legend. 50 Cent is not well fitted in his role but is pretty cool in his act. All the others fit well in their roles.
 The action-sequences are well filmed and cinematography is great. A great watch if you are an action-buff. The fast paced actions, powerful performances delivered, excellent dialogues make the film watchable!
 Overall: 3/5