Delhi Integrated Multi-Modal Transit System (DIMTS) has launched its new app called Delhi Transit Bus Info for Android devices, thus lessening the commuter-related hassles. The app shall provide useful information about the estimated time of arrival of buses, various bus routes, and several bus-stop locations. All this information gets beamed real time on user's device. Commuters with an access to internet may make use of this service by either logging into the DIMTS website (www.dimts.in) or by downloading the app from Google Play Store. Pretty soon, the app shall be made available over iOs, Symbian and Blackberry systems. People using Windows devices shall have to wait a little more longer, it seems.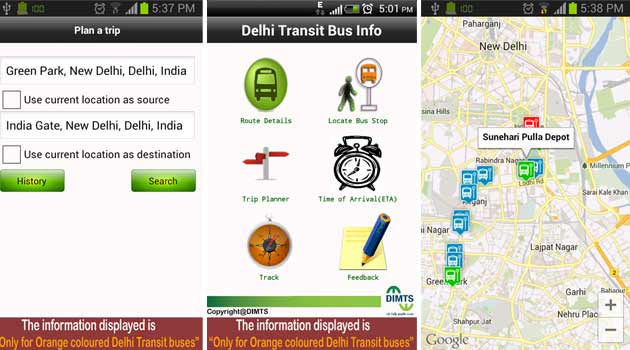 At present, the app only provides information about the orange-coloured Delhi transit or cluster buses, but the trip planner feature does offer data regarding DTC buses too. DIMTS maintains that information regarding DTC-operated buses for remaining services shall be incorporated in the app very soon.
In an attempt to better the already existing features, the team has arranged for bus users to share their feedback through a form that is available both on the website and the phone application. A test feedback has been launched to receive candid public feedback for further app improvements.