Online travel service provider Cleartrip has revamped its experiences section with an add-on of Cleartrip Local. The Cleartrip Local is divided into activities, eat-out, events and fitness categories. Now the new app will feature the twin tabs of Travel and Local. With just an easy toggle you can access "Local" and makes it just easy to find the experiences you want. The tab will access  user's location automatically if the user has given permission for access. Else there is a drop-down menu to bring up the listed cities.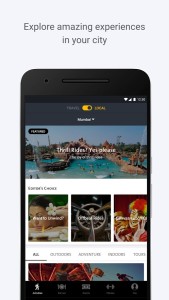 With Cleartrip Local you can browse through 15,000+ experiences catering for around 200+ interests in 50+ cities, which makes it most comprehensive aggregator for the experiences listed. Cleartrip aims to deliver awesome experiences in your city so that you can trip without traveling.
Switching to Local you can access activities, eat-out, events and fitness categories all of this, in one place, on one screen. With Local on your phone, you're just a tap away.So give it a spin so the next time someone asks you "What's happening?" just turn around and say "Lot's happening!" says the Cleartrip.