The world is full of storytellers, and every individual has a unique story to share. You did an incredible thing at school and want to narrate the entire awesome episode to your grandma who stays far far away? Adobe Voice shall help you in narrating your experience even better, and believe me, your grandma never enjoyed listening to a story more. Like ever. Adobe Voice is Adobe's new iPad app that delivers awesomely powerful share-able videos in minutes. The entire process is so easy and the end result looks so professional, and the best part is you don't even require special skills to develop/create the video. All you need to do is record audio messages and then transform the same into clean animations smoothly, without any advanced editing know-how.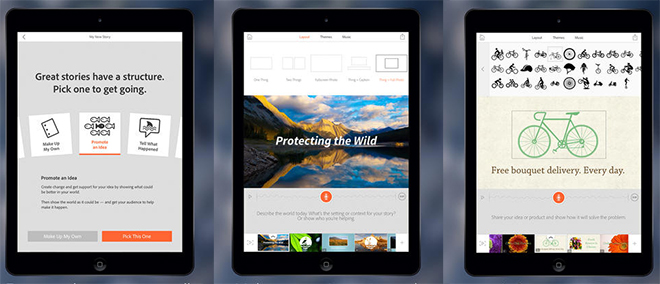 Staring with Voice is pretty simple. You need to choose a topic and the story type, after which the app shall launch a project for your video – with instructional cards and all that'll assist you in telling your story. And it make sure to keep the entire story-making process simple, with listed instructions being all to easy to follow. Tapping a particular card lets you edit the same, and in every panel of the story you may embed a music file, photo or an image from the app's inbuilt library. It's sad that the present version of Voice doesn't let you include videos, but maybe we'll have it with future upgrades. The images in the app library are superb, and the collection is really huge (with over 100,000 images!), all falling under Creative Commons license. All the things you used in making your video, Adobe lists them all in the end-credits. Once completed, the video could be easily shared across social media. This is seriously a great tool for creative professionals prototyping a project, small businesses or NGOs creating an online campaign, students looking to create an impressive school report, etc.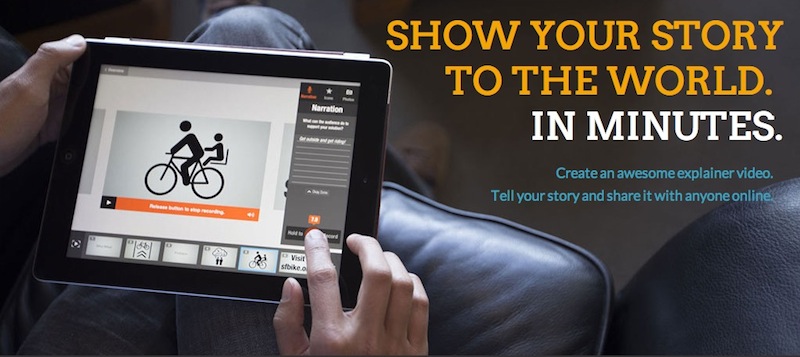 Adobe claims that videos created using Adobe Voice could be viewed on "virtually any device", so that's an additional bonus. Download this iPad app for free here (compatible with iPad 2 or higher and with iOS 7), and add life in your stories and presentations.
For more information, watch the videos below: