This year's Vayalar Award has been conferred upon poet and lyricist Prabha Varma for his poem 'Syama Madhavam'. The award, one of the most prestigious literary honor in Malayalam, includes a prize money of Rs 25,000, a citation and a statuette, which would be presented to the awardee at a function organized to observe the death anniversary of Vayalar Ramavarma on October 27, in Thiruvananthapuram.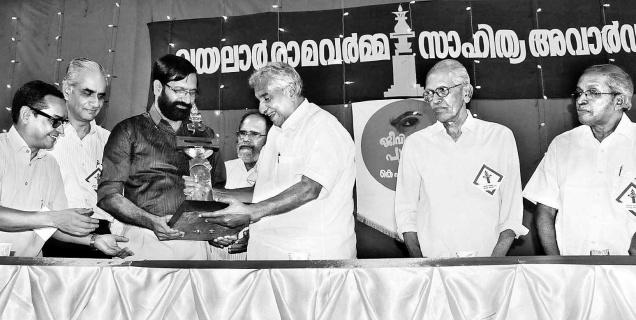 Vayalar Rama Varma Memorial Trust President M K Sanu announced the 37th Vayalar award on Saturday, declaring Prabha the recipient of the award. He opined that the poem Syama Madhavam was successful in presenting Lord Krishna in a poetically unique perspective. The poem first came serially in a Malayalam weekly, which got discontinued abruptly as the editor of the article refused to publish Varma's remainder of the poem, protesting against the poet's article in Desabhimani about RMP leader TP Chandrasekharan's murder.
Earlier, Prabha's poems have won him the Ulloor award and the Mullanezhi award. Vayalar award, established 1977, is given to a set of work recommended by proclaimed writers and intellectuals.