The love and insecurity surrounding a newly-wed couple always makes up for an entertaining (plus meaningful) watch. Directed by Sameer Vidwans, Nava Gadi Nava Rajya is a Marathi play that unrolls the oddities, volatilities, word-fights and all the compromises that couples share in a marriage to make sure it lasts long. The mundane realism depicted of the everyday struggles and vitals of the married life makes it all even more mesmerizing. The play is already 280+ shows strong, and the movie adaptation of the same should be hitting the screens anytime now.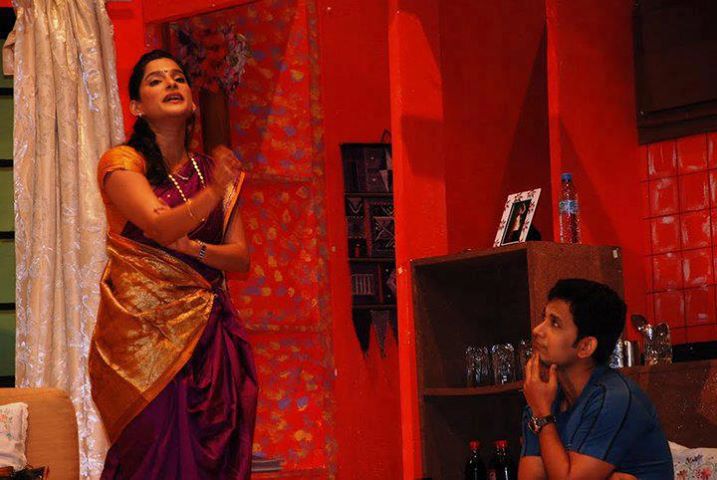 Kshitij Patwardhan's story may have been writ around modern day couples, but acknowledges the middle-aged couples too. The script mainly is structured about how the excitement starts to rub-off a relationship in due time, and how the zing has to be maintained afterwards while warding off all the fallacies and adjusting to your better half's inconsistencies. The real life couple Umesh Kamat and Priya Bapat maintain their sizzle on-stage as Rishi and Amruta, fittingly accompanied by Sameer Khandekar and Gyanada Chemburkar, playing Himmatrao and Ketaki respectively.
The first half is thoroughly enjoyable and pacy, as compared to the second. Priya Bapat as the childlike Amruta steals hearts, while Umesh Kamat too has enacted the muddled-up husband quite well. Sameer Khandekar plays a guy who sticks to humour in order to ward off the deep and awkward situations alike, and it's his tasteless one-liners which shall have you in splits throughout. Gyanada Chemburkar character's Ketaki could've been etched much better.
The play may be dealing a particular situation alone, but the script is so tight you won't find yourself feeling dull for even a moment. The issue of inter-caste marriage, which sadly still exists, was slightly touched upon. What I particularly liked about the whole play, apart from the performances, was the beautiful set design and the brilliant use of lights. The symbolic use of the terrace door that's jammed shut for a major part of the play, again, was notable. All in all, this is one energetic marital dramatization with some genuinely heart-touching moments, and is enjoyable indeed.